As part of the 25th anniversary celebration of their pivotal album Follow the Leader, Korn has opened up preorders for a re-release of the titular eyeshadow palette collaboration with makeup brand Hipdot!
First access to pre-order the relaunch of our #FollowTheLeader eyeshadow palette is now live in our online store. Check out the rest of our #FTL25 merch collection and get yours at https://t.co/1eUpKBe8uE. pic.twitter.com/oXOovS7zim

— Korn (@Korn) August 28, 2023
At least… they did. The palette is currently sold out with no sign yet if another re-release is planned. Initially launched in January of this year alongside an exclusive set of enamel pins on Hipdot's website, the collection of 8 shades named after the band's favorite tracks from Leader has flown off the shelves.

Whether you missed out or are waiting patiently for your package to arrive, allow The Nu-Metal Agenda to provide you with a few insights courtesy of someone who was lucky enough to score a palette the first time around, and maybe even help you plan a future look!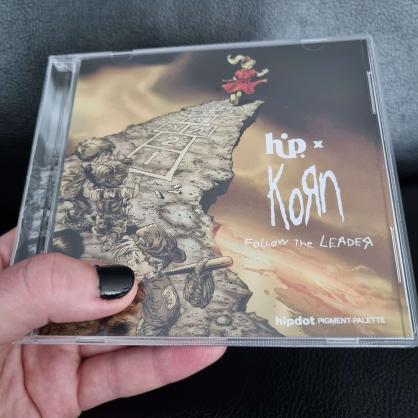 As far as packaging is concerned, the palette is a real beauty. At first glance, you would be forgiven for mistaking it for a legit copy of Follow the Leader, with only the Hipdot logo and a slight metallic sheen to the "album" artwork to clue you in (there is no booklet included, just a folded leaflet that's plain white on the back). The layout of the colors is nicely coordinated and the embossed Korn logo in the pitch-black shade "Freak on a Leash is a genius touch (it broke my heart to ruin it when it came time to swatch them).

As someone who has never owned a Hipdot palette before this, I found the shadows extremely high quality, all applying incredibly smooth and pigmented. Freak on a Leash is now the blackest black I own and I can see myself getting a lot of use out of it in the future. I've never really dabbled with pressed glitters before, but Dead Bodies Everywhere and Pretty were so soft to the touch and easy to apply that I just might be tempted. My Gift to You, a beautiful brown-green duochrome is definitely the star of the show and brings some much-needed drama to what would otherwise be a very neutral heavy color scheme.

The overall color story is my only gripe, with the browns and beiges being a little too bland for my tastes, especially in comparison to the Evanescence collaboration Fallen palette that launched at the same time. Where Fallen embraces its vampiric night owl inspiration, Follow the Leader is definitely her daywalker sister, although, with the addition of the glitters, I can definitely see the corporate goths amongst us embracing this as a staple for transitioning from work-appropriate to night-out looks.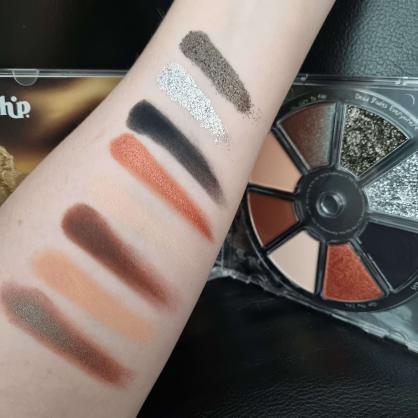 Hipdot is a cosmetics company that quickly rose to prominence as a vegan and cruelty-free brand while many other mainstream alternatives were still dragging their heels when it came to animal welfare concerns. Most notable, however, is their staggering amount of brand collaborations from the Girl Scouts to Sesame Street, from Cup Noodle to Hello Kitty. In December of 2020 Hipdot released their inaugural band collaboration; a four-product My Chemical Romance collection that sold out in a staggering three minutes. It's no surprise that the brand caught the eye of other acts hoping to branch out in their merchandising endeavors.

The kind of people who use makeup as a form of expression have always been a criminally underserved market in heavy music merchandising, despite their evident dedication and buying power (the beauty industry is worth $579 billion as of 2023). With such a high-quality and clearly successful product as this palette, along with the aforementioned Evanescence and My Chemical Romance collaborations, other alternative acts would honestly be foolish to not follow in Korn's footsteps from not just a business standpoint, but also as a show of appreciation to a corner of their fanbase that has historically been ignored and underappreciated.
Comments