Pennsylvania band Another Day Dawns recently announced their upcoming album, "Finding Peace Through All the Noise," set to release on October 6 via Century Media.
The band has also shared the music video for their latest single, "Hesitate." According to lead singer Dakota Sean, the song tackles the internal struggle we all face when confronting the realities of life and relationships, emphasizing the importance of taking control and not opting for the easy way out.
Sean states:
"'Hesitate' is about the internal struggle we all deal with about coming to terms with the reality of your life and your relationships, rather than following the little devil on your shoulder," says Dakota Sean. "It's about not taking the easy way out and taking control of your life."
Having formed as friends in high school back in 2010, Another Day Dawns — singer Dakota Sean, guitarist Tyler Ritter, bassist Jerome Betz, and drummer Nick McGeehan —  have come a long way. Through countless electric and acoustic shows and opening for notable acts like Sevendust, Starset, and Atreyu, as well as performing at renowned rock festivals such as Aftershock, Blue Ridge, and Louder Than Life, the band has established themselves as a formidable force in the Northeast and Mid-Atlantic region. Their 2018 EP, "A Different Life," made its mark on the Billboard rock charts, solidifying their position in the active rock market. Additionally, their singles "Taste of Heaven" and "Look at You" have gained significant traction on streaming platforms.
FINDING PEACE THROUGH ALL THE NOISE TRACK LISTING:
"Intro"
"Bitter"    
"On And On"    
"No Way Out"    
"Hesitate"    
"Pull Me Under"    
"Pain"    
"On Our Own"    
"Look At You"    
"Luminous Bloom"    
"Brand New"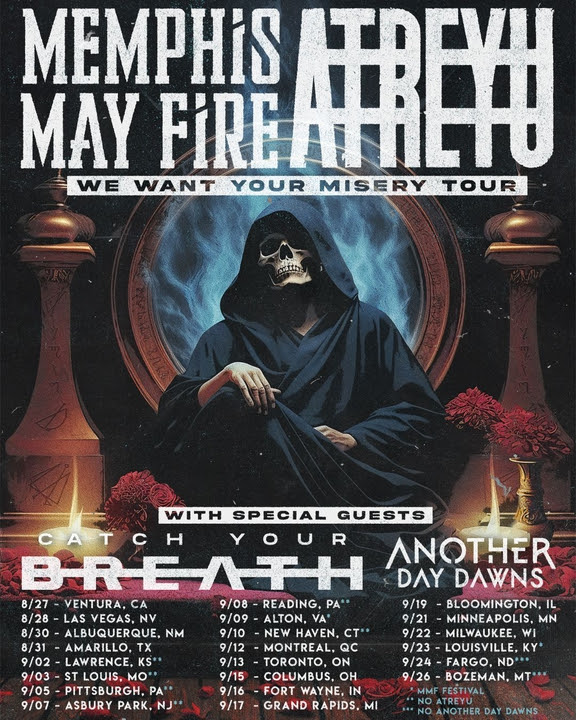 ANOTHER DAY DAWNS ON TOUR:
WITH ATREYU, MEMPHIS MAY FIRE, + CATCH YOUR BREATH:
8/27 — Ventura, CA — Ventura Theater
8/28 — Las Vegas, NV — House of Blues
8/30 — Albuquerque, NM — Revel
8/31 — Amarillo, TX — Ocho Segundos
9/2 — Lawrence, KS — Bottleneck*
9/3 — St. Louis, MO — Red Flag*
9/5 — Pittsburgh, PA — Mr. Smalls Theatre*
9/7 — Asbury Park, NJ — House of Independents*
9/8 — Reading, PA — Reverb*
9/10 — New Haven, CT — Toad's Place*
9/12 — Montreal, QC — Theatre Beanfield
9/13 — Toronto, ON — Danforth Music Hall
9/15 — Columbus, OH — Newport Music Hall
9/16 — Ft Wayne, IN — The Clyde Theatre
9/17 — Grand Rapids, MI — The Intersection
9/19 — Bloomington, IL — The Castle Theatre
9/21 — Maplewood, MN — Myth Live
9/22 — Milwaukee, WI — The Rave/Eagles Club
9/23 — Louisville, KY — Louder Than Life**

*No Atreyu
**Festival Play
Comments