Josey Scott, founding member and vocalist of Saliva, has announced that he will be touring with his own version of the band, which will be playing songs from Scott's time as their frontman, appropriately named Josey Scott's Saliva.

In his official post about the tour, Scott wrote "Super grateful that I have the opportunity to get out on tour again and play for those of you who loved all of these songs we did back in the day!"  This comes shortly after the other Saliva announced they will be releasing an album and touring in honor of their late guitarist and remaining final member, Wayne Swinny.  Swinny passed away from a brain hemorrhage earlier this year.

What songs would you like to see Josey Scott's Saliva perform?  Let us know below.

Tour Dates:
5/13 – Katy, TX @ Wildcatter Saloon
5/14 – Fort Worth, TX @ Rail Club
6/17 – Tahlequah, OK @ Rawk Tte River
6/23 – New Baltimore, MI. @ Diesel Lounge
6/24 – Sault St. Marie, Ontario @ Rankin Arena
8/9 – Vale, SD @ Full Throttle
8/26 – Shinnston, WV @ Dysfunctional Family
9/15 – Los Angeles, CA @ The Whisky
9/29 – New Bedford, MA. @ The Vault
9/30 – Northampton, PA @ Gin Mill
10/6 – Bristol, TN @ Sidetracks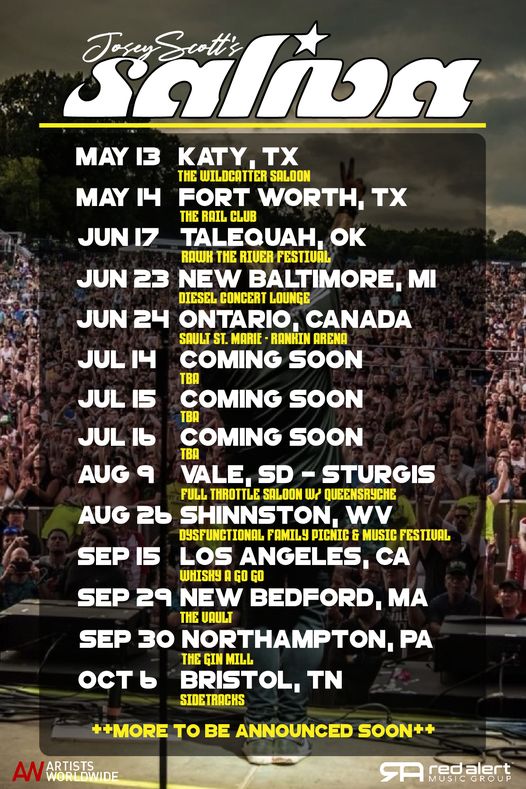 Comments